by Andrew Corrigan, TRS Product Line Manager
Equipment and expertise come together to boost efficiency, safety, economics and emission reductions. In this latest blog, our Global Manager of Tubular Running Services, Andrew Corrigan, explores the importance of harnessing new technology to provide high quality results…
The evolution of oil and gas has placed an ever steeper premium on technologies that enhance efficiency, boost health and safety, improve economics and reduce carbon emissions.
We exist like never before in a market that demands the highest standards across the full range of industry asks – it is simply not enough to focus on one area of delivery at the expense of other priorities.
Odfjell Technology understands this changing project landscape, and how to achieve results against this operational landscape. It has tailored its Tubular Running Services (TRS) as a best-practice solution that delivers on multiple fronts, for every customer and in every circumstance.
Because the best tools, deployed and executed with the right experience, can transform what is possible across remote and conventional equipment and services, top drive casing, casing drilling and integrated TRS.
Quantum leap
Oil and gas operators are driving accelerated change across the industry, seeking innovations in automation and flexibility that will dramatically improve project efficiencies while boosting health and safety.
The ideal solution as it relates to TRS is not only hands-free and remotely-operated – coming ever closer to unmanned rigs – but also suitable for varying system sizes, integration with wider project teams, and with the highest standards of durability and performance.
Odfjell Technology is dedicated to supplying TRS services and equipment providing a perfect mix of proven competence, competitive pricing and high-level automation – our goal is nothing less than the most advanced technology and an ever-greater value of service.
That challenge is why I joined the company, and why I couldn't be more excited to both consolidate our leading position in established markets while expanding our offering and operations geographically, and through some truly innovative technological advances that meet industry needs.
As a valued partner, we know it is essential to listen and understand our customers, to continue to develop the hands-free plug and play equipment that oil and gas demands, and to supply unrivalled solutions and services across a wide range of markets and basins.
Tools for change
Odfjell Technology offers a full toolbox of solutions to improve the safety, operations, economics and emissions profile of your project.
And we're leading the way on the hands-free and remotely-operated equipment that has transformed TRS. This includes our Wi-Fi-controlled Scissor Lift Tong range, our top-drive casing running tool range, our Sliplifter with integrated safety clamp, the Sliding-Spider completion unit and the Wash & Dope doping and cleaning applicator system.
We also offer the CLP control line pusher for multiple completion control lines and the Wi-Fi-connected TRAC torque turn system and torque turn sub. The heavyweight end of the spectrum is also on the Odfjell menu: our UltraElevator and UltraFMS provide heavy-duty slip type elevators and flush mounted spiders.
We are always innovating, working continuously alongside our industry partners to develop new technology that delivers the safest and most efficient services with a focus on hands-free operations.
All-encompassing
The offering is bolstered by the wider Odfjell family of companies, which includes decades of experience drilling in the harshest environments for the most demanding of customers. The one-two punch of TRS and drilling services offers an unrivalled mix of capabilities, competence and value.
TRS – standalone or in combination – further benefits from a long and successful relationship with our supply chain, a best of both worlds scenario in which outside manufacturing expertise partners with in-house adaptations based on experience at the sharp end of oil and gas operations.
North Sea markets including the UK and Norway have been at the core of our experience over the last 50 years, but we are also very active in the Netherlands and Europe, onshore Romania, and across the Middle East from our Dubai base.
Our sights, and appetite for growth, extends to deep-water Africa and the Gulf of Mexico in the US, and we are always ready with our full range of solutions to tap into new markets, wherever and whenever they develop.
Real-world impacts
Results in real-world applications speak for themselves. For a platform located in the UK Noth Sea, for instance, Odfjell Technology supplied drilling services solutions via full integration with a core rig crew.
The objective of the initiative was to substantially reduce client costs through the elimination of ad hoc TRS and all the costs associated with that. Preparation included a bespoke training program, the assignation of a TRS supervisor/roughneck on a fixed rotation as part of the drilling crew, crew engagement sessions focused on roles and responsibilities, and a bespoke maintenance program.
Over the project period of roughly 400 days, a total of 37 TRS operations were carried out across 865 hours with zero non-productive time and zero health and safety incidents. Cost savings per completion and 9-5/8″ casing recovery were £15,000, and per 13-3/8″ conductor recovery were £6000.
Total direct costs savings over the period were more than £500,000. Additional cost reductions came from efficiency savings on the back of factors including a more effective relationship between rig crew and third-party service company, increased familiarity with operations, reduced or eliminated 'blame culture' in the shared team, and continuous optimisation of TRS equipment on the back of learning across many wells.
Through the first year, as an example of the latter, rig up times have improved by 65%, with 30% achieved for single joint compensators. And on an annualised basis, a full two rig days can be avoided – some £150,000 to £200,000 saved.
Of course there are additional 'avoidance' savings more difficult to quantify: reduced helicopter traffic, lower logistics costs, simplified administration, fewer vendor meetings, more efficient onshore planning.
Time is money
The old adage that time is money has been expanded over the last 10 years, particularly in the oil and gas market, to encompass not only efficiency but also carbon reductions.
The sort of automation and hands-free TRS offered by Odfjell Technology translates directly into more efficient operations, with fewer hours spent on manual handling, with less expenditure involved, and with a huge reduction in downtime – with all that means for both economics and emission savings.
There are further efficiencies involved in logistics and transport, both equipment and personnel, and an increased ability to operate in the sorts of adverse weather that would otherwise impact schedules and delay results.
But perhaps most important are the benefits to red zone management – a massively reduced need for hands-on operations, using durable and technologically advanced equipment, that optimises what can be achieved across TRS.
That is the Odfjell Technology vision – one that we share with our customers and which drives us to offer the solutions required to meet the demands of oil and gas both today and tomorrow.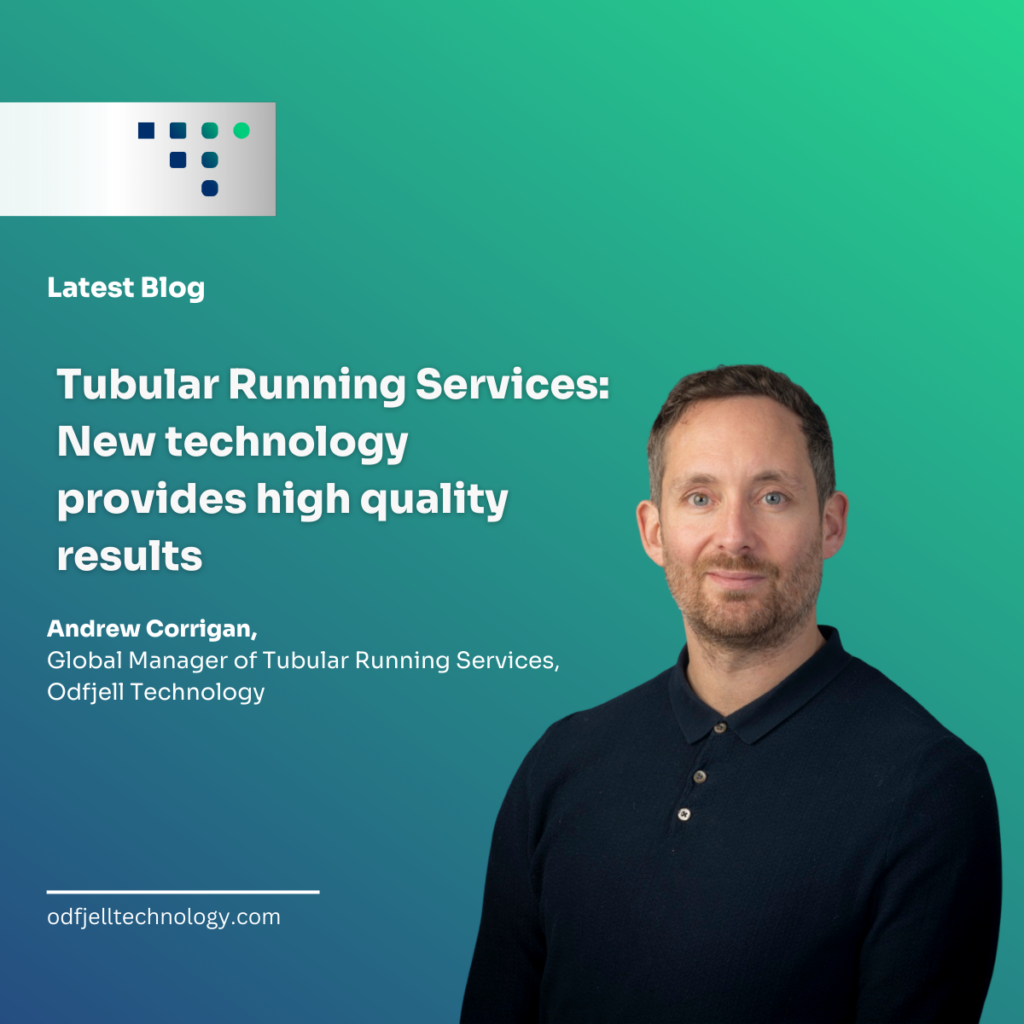 About Odfjell Technology:
Odfjell Technology has five decades of experience operating worldwide, serving offshore and onshore markets. The company's integrated business model enables it to provide a comprehensive portfolio of products and services designed to create value for clients. Its highly competent, dedicated and experienced workforce is well equipped to find solutions to the challenges of today and tomorrow. The energy transition is one of today's greatest challenges. Odfjell Technology's vision is to use its heritage and expertise to support the industry as it transitions to new energy solutions. To find out more about Odfjell Technology and its services, please visit https://www.odfjelltechnology.com/