Ahead of this week's International Women in Engineering Day, we caught up with Anne Siri Sævareid, EVP Engineering at Odfjell Technology, to discuss the importance of an equitable workplace, the role women have in engineering for the energy transition and how safety underpins everything…
What motivated you to progress a career in engineering?
When I was younger, I didn't know what I wanted to do when I grew up. At school, I knew I was interested in mathematics and sciences but wasn't sure which career path I'd end up following. When I got to university, I decided that a general knowledge of engineering would set me up well. I didn't follow a traditional path to my current position, but I find that often leads to the most interesting of journeys!
In your 25 years of experience in the oil and gas industry, have you seen a step change in the sector's approach to encouraging women into engineering?
Definitely. When I first enrolled at university, there were few women also studying engineering. Luckily, during my five-year course, a close network of women within my cohort developed – for context, there were roughly 10% women in my class when I was studying my Master's degree in Mechanical Engineering. This network provided a great support system for me, and I've always looked to replicate this for women in workplaces during my career.
I graduated in 1997 and noticed a significant step change around diversity and inclusion around the millennium. Diversity is now very much on the agenda, and this commitment makes such an impact for women entering and progressing within the energy sector. Having female role models as experts in positions like discipline leads, project managers and department managers maintains this positive momentum of women excelling in engineering.
Which factors do you think affect women entering the engineering sector across the world?
Strategic recruitment helps women receive equitable opportunity. The work life balance is firmly on the agenda now, too, which enables flourishing careers to blossom alongside other roles within life. Considered actions from educators and employers means that the correct building blocks are in place to encourage women into all levels of engineering.
Depending on where you are in the world, the make-up of workforces looks different – society needs to be set up in a way to enable equitable opportunity. We are forward thinking in Norway, and I believe setting actionable and achievable goals for women and other groups to enter engineering is reaping real results for our companies and culture.
Why is recruitment and retention so important for women in engineering?
We always strive to develop careers internally. Last year, we established the Odfjell Technology Women Network (OTWN) which provides a collaborative and engaging network for women across our company to support each other. As a global initiative, the OTWN core team consists of employees from five of our locations: Norway, Dubai, UK, Philippines and Romania. This cross-culture communicative group has shown real camaraderie and we are proud to provide this space for our teams.
It's important to walk the walk, and not just talk the talk. Our goal is to have 40% women in mid-level management positions by 2026. This goal corresponds to the level of women in the onshore organization today, and we would like to see this reflected in mid-level management positions. Half of the Group Board of Directors and the Executive Management team in 2022 were women.
Have you noticed a shift in women entering the engineering workforce?
As the energy transition has picked up momentum, we've seen a shift of focus to sustainability as a major career specialism. Catalyst research states that a higher share of women work in renewable energy, making up nearly a third (32%) of the global renewable energy workforce.
While there is still high activity in traditional oil and gas, we want to make sure there is comprehensive skills transfer to the entire energy mix. We need to build on the experience of this sector to enable a fair transition, and we need to make sure we utilize the entire workforce as we do that.
This year's #INWED theme is Making Safety Seen. How do you think Odfjell Technology prioritizes safety?
During my career, I've held various management positions within the fields of Operations, QHSE, Projects and Contract Management. I've found that having a diverse and open environment is crucial for developing a successful and safe culture.
It is essential to understand the HSE exposure from the start of projects during the design phase. HSE is fundamental for our design criteria. Equally, HSE evaluation is well embedded in the Project & Engineering execution model and HSE is always the highest priority during execution of our work and is always at the forefront of operations. Recently, our RIS Norway business unit announced the remarkable milestone of having completed one full year without any recordable HSE incidents. And we're recognized in industry, too – our Tern Alpha team won the IADC Chair's award for the Best Safety Performance 2022 – Platform. Safety is absolutely fundamental. Safety Conscious is one of our core values at Odfjell Technology, portraying a strong message to all employees and industry that safety is always our number one priority during execution of our work.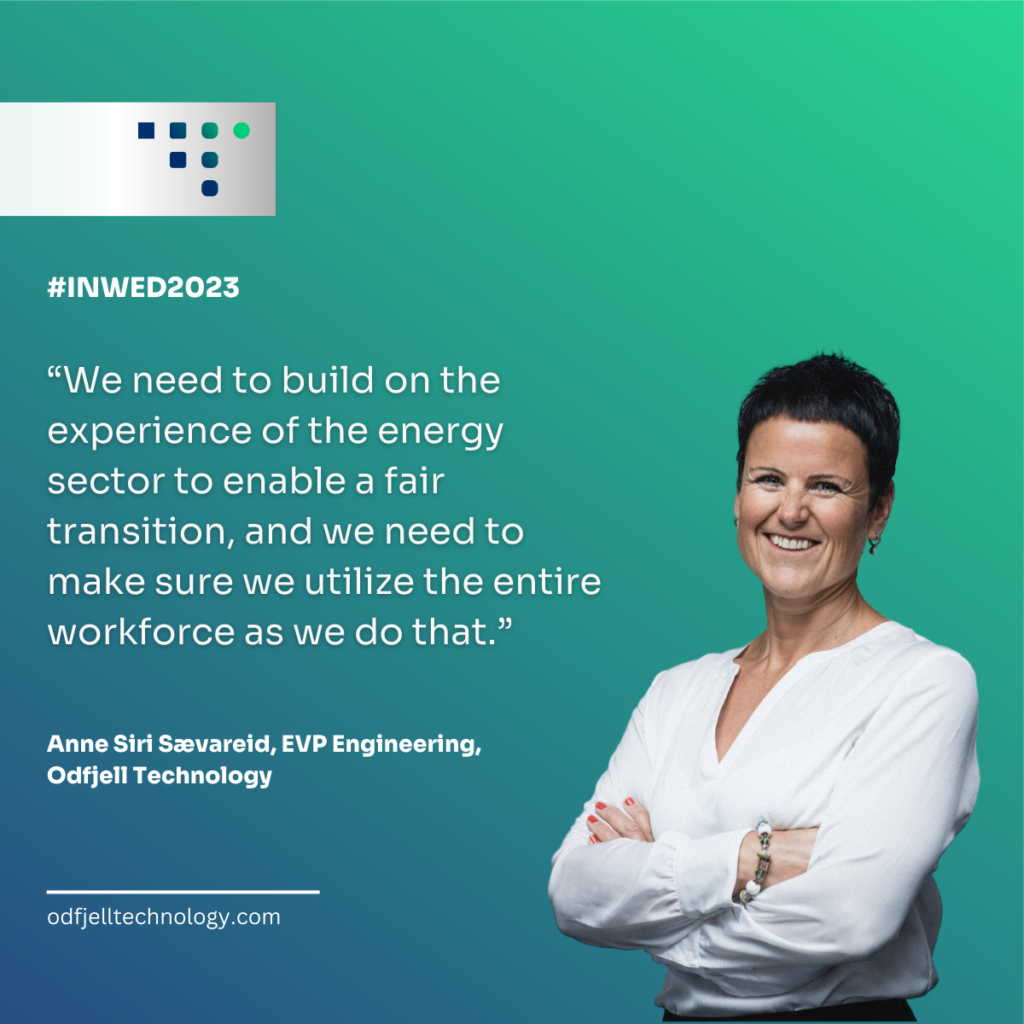 About Odfjell Technology:
Odfjell Technology has five decades of experience operating worldwide, serving offshore and onshore markets. The company's integrated business model enables it to provide a comprehensive portfolio of products and services designed to create value for clients. Its highly competent, dedicated and experienced workforce is well equipped to find solutions to the challenges of today and tomorrow. The energy transition is one of today's greatest challenges. Odfjell Technology's vision is to use its heritage and expertise to support the industry as it transitions to new energy solutions. To find out more about Odfjell Technology and its services, please visit https://www.odfjelltechnology.com/